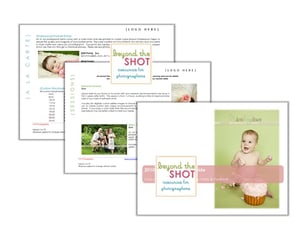 $

24.00
This a comprehensive Price & Product Guide which beautifully displays all the fine details about your sessions, products and services you have to offer your clients.
This is one of the first things that I send to any new client inquiries that I have and it sets the tone for my brand and what type of boutique custom photography prints and products I offer.  It also is a great tool for them to reference as they place their order through my online ordering cart.  It gives a visual reference of the various products I offer which has resulted in higher sales.
The Guide features sections for:
Session fees & descriptions
Baby Plans
Print Collections
Digital Collections
A la carte Gift & Wall Prints
A la carte boutique products
You will also receive links to the various vendors that I use for the products listed in the Guide along with comprehensive descriptions and verbiage for each of them.  This Guide is ready to have your prices added into the pre-populated list of popular sizes and is completely customizable to include all your product offerings beyond what we have included.
**PLEASE NOTE: Due to the digital nature of this product and all of our digital download products, all sales are final**