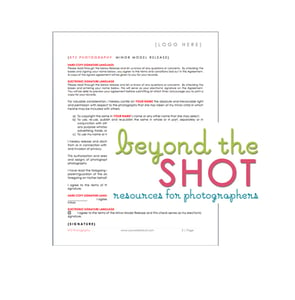 $

19.00
Our latest product is the Minor Model Release.  This release will enable you to use your clients images on your website, marketing materials and promotions.  It will also cover use of your images with product vendors, such as on Etsy.com.  While this release is mainly geared towards minors, can be used with all clients.
This form comes in MS Word format and is completely customizable to suit your business practices and branding.
MachForms setup of this form is available for an additional $19 fee and can be purchased here.
**PLEASE NOTE: Due to the digital nature of this product and all of our digital download products, all sales are final**