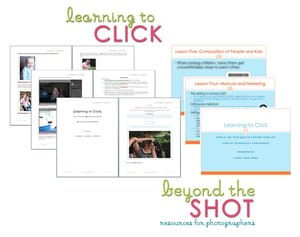 $

195.00 - On Sale
Do you have clients and friends asking you how to use their DSLR's?  Have you considered teaching others how to use their cameras to capture their everyday lives?  Then our latest product, Learning to Click is for you!
Learning to Click, is a complete course package that enables photographers to get out there and teach others how to use their cameras to effectively take better photos in their everyday lives.
DeAnn Arnold of DeAnn Arnold Photography has partnered with us to create a 65 page Workbook, Guide for Photographers and complete PowerPoint Presentation of her highly successful course that she teaches to clients and friends in her area.
What's included?
Guide for Photographers - tips and advice on how to setup your class, how to price, etc.
65 page Course Workbook - gives great details and many photo examples for your students to reference, even after the class is over
Complete PowerPoint Presentation slides - designed to match the Workbook and provides you with a professional presentation for your students
But WHY would I want to train others to possibly be my competition?
These materials were not created with the intent of training your competition or encouraging them to start their own photography business.  Rather, they are created in a way that will teach them how to shoot with better results, while giving them a whole new level of appreciation for the work that you do! In DeAnn's experience of teaching this course, she has found that many of her client respect her even more because they understand that it's not easy to get great results.  That there is a lot of knowledge and education that goes into taking a great shot and it's not something that "just anyone" can do!  In no way does this course describe how to setup a new photography business or even address how one would even begin.
Due to the size of this file, download link will be sent within 24 hours of purchase through a separate email.  If you have any questions, please contact us at amy@beyondtheshot.net
**PLEASE NOTE: Due to the digital nature of this product and all of our digital download products, all sales are final**